For all inquires please contact
P: 780-453-6182
E: iccgm@iccedmonton.ca
Weddings and Banquets
Planning your wedding day or special event needs to include the finest in facilities and catering, the Italian Cultural Center (ICC) will match your expectations. We specialize in catering for all types of weddings and banquets in any configuration or size with our 5 halls.

We want your special event to be as successful as you do and we'll do everything we can to ensure a positive experience that will please you and your guests.

Weddings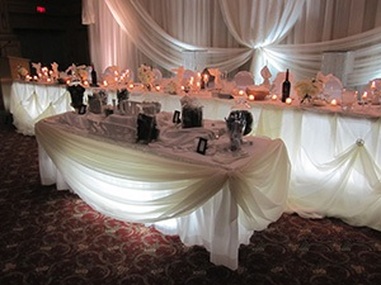 With the big day looming, the Italian Cultural Center (ICC) is perfect for a graceful and tasteful wedding ceremony. The occasion being one of our specialties, we have extensive experience in planning, coordinating and hosting some of the most beautiful weddings in Edmonton, at our venue.
We can accommodate any size function or receptions, with multiple hall options and ample room space within the selection of venues. With a full time chef on duty, menu options are elaborate and customizable.
Indoor & Outdoor Ceremonies.
Our multilingual staff can put on a real Italian wedding or simply add a touch of Italy to any wedding party. We can arrange for photo booths, outdoor pictures and gazebos should you need them. When the weather changes, the ceremony and reception can move indoors.
If your guests require hotel accommodations, we can facilitate, coordinate and work with them. If you want to arrange for other provisions, we are here to help advise and inform every step of the way.
There are wedding planners we have worked with in the past and can advise based on your needs. We have complimentary settings but these are offered on a choice basis subject to terms and conditions.
Our building is easily accessible, conveniently located close to most major highways and parking is abundant. Please call ahead of time to book any of our
halls
.
Please contact us for further information regarding any of our
facilities
and services.
---
Banquets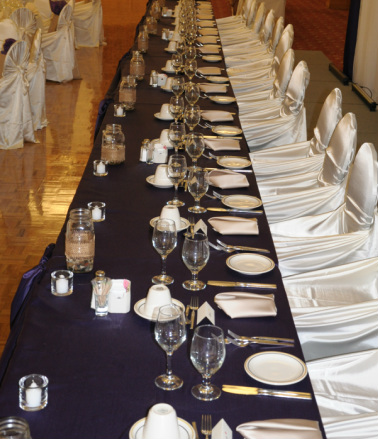 If you are embarking on hosting a dinner formal, a party or a banquet, choose the Italian Cultural Center (ICC) to accommodate your event. We can facilitate favorable amenities including tables, chairs, flatware, menu ideas, catering, room rental etc...
With a professional in-house Italian chef and a large team of full time staff, we have the capacity to supply excellent multi-course meals cooked fresh at our state of the art
kitchen
facilities and to have them catered throughout the evening. The food can be coupled with some of our fine Italian wines and/or professional bar tenders at your disposal.
Our variety of
hall
options can accommodate large, small and medium sized parties. Parking is plentiful and our facility is easily accessible from all major highways including Anthony Henday and Yellowhead Trial. Hotel accommodations may be arranged and/or facilitated for any out of town guests.
We are able to advise of different planning services should you require them for a dinner, party or banquet.
Formal Balls You might take advantage of some of those professional planning services when hosting a formal ball. We have a multitude of planners we have worked with in the past and can recommend as needed.
Provided the ideal decorative setting, we can proceed to tailor your menu whether you choose to go with traditional Italian food or opt for a more custom option, food marks the beginning and end of every celebration.
And while you are celebrating, dancing and music could be the ideal midpoint to the beginning and endpoint continuum. Most of our rooms available for rental feature a good sized dance floor with an in-house audio visual AV system.
For more information, please visit the
Facilities
page or
contact us
with further inquiries.
---
Awards Dinners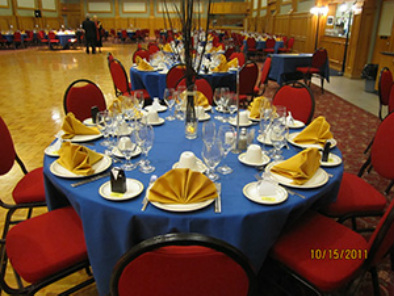 Awards dinners and ceremonies are always an exciting time! When there is an award to present, somebody has accomplished a special level of excellence.
The Italian Cultural Center wants to take part in the celebrations during your special day. Be it by serving food and drinks, helping with arrangements and bookings or simply by renting a
facility
. We pride ourselves on our excellent level of service and on meeting our customer's needs.
We offer a variety of choices for food and drink on our menus. If you favor retaining several rooms to host your awards dinner, this can be accommodated along with a bundled price.
Our large team of full time staff and experienced head chef, Don Noble, has the capacity to serve various sized functions including once exceeding 500 guests.
With a large stage available in the
Losa Hall
and podiums available for utility in any of the other rooms, our
facilities
are ideal for award ceremonies or dinners. We also have microphones, speakers, computers and an audio visual system available for presentations, music and any other purposes you may conjure.
Please
contact us
further information regarding any of our
facilities
and services.
---
Social Formals
Social events, dinner parties, anniversaries, birthdays, graduations... these take place time and again throughout our lives. In many ways they are timeless and unforgettable especially when celebrated in a close-knit circle of friends and family.
The Italian Cultural Center has been helping people celebrate their life's milestones for decades. We are highly experienced, professional and very approachable when it comes to party planning and execution.
We have various
hall options
available to accommodate a variety of guest sizes from big to medium and small.
Our in-house
kitchen
is immense and has many meal options from traditional Italian dishes to customized meals courtesy of our head chef Don Noble. We have a large selection of Italian wines and other drink selections for you to choose from including professional bar tenders and food catering.
---
Parties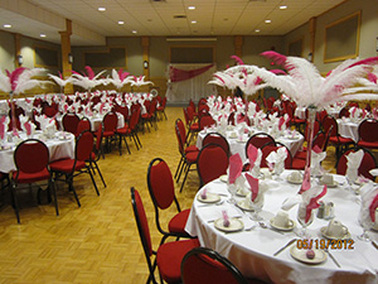 When it comes to party planning, it is important to choose a service provider that is easy to work with, accessible and accountable. Our staff at The Italian Cultural Center (ICC) have years of experience throughout which we have perfected those qualities.
If you are celebrating a birthday, anniversary or any other special event, we have a variety of
halls
, menus and seating options available.
One thing that is indispensable during parties of various sorts is a dance floor. Most of our rooms feature a dance floor in the center with plenty of room around the perimeter for a seating area.
The
Losa Hall
also has a stage and podium ideal for performances, speeches and/or hosting. Parking space is plentiful and our
facilities
are easily accessible from all major highways.
---
Graduations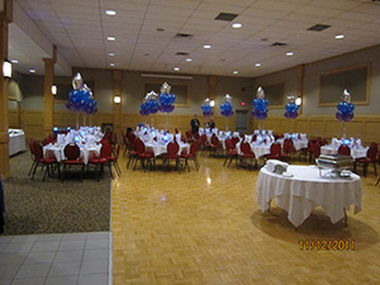 When that special day finally comes, after years of hard work and perseverance, a celebration is well earned and due in place. With our Audio-Visual (AV) system, we can help you remember the highlights of your experiences, the trials and tribulations you have faced along the way and the big day when it all came to an end.
Using a stage and/or podium, you could recite your story to the guests. Tell them about your success and share in the excitement of a new beginning.
And when the excitement subsides, what you will have is lasting memories of how you celebrated your big day. The Italian Cultural Center (ICC) wants to be a facilitator for those memories and pleasant experiences. Whether by
renting a room
or
catering
food and drinks during your special event, ICC has the capacity to meet your needs.
Please see the
Facilities
page for more details and
Contact
us with further inquiries. When you are ready to celebrate, we are here to facilitate!
---
We have full accommodations and our own Tupperware available for your use. Internal space is plentiful and can be used creatively subject to terms and conditions. With food cooked professionally and fresh in-house, your guests are bound to enjoy and indulge their appetites.
Should a cancellation need to be made, the penalty is equal to the amount of any food and beverage revenue. The schedule to follow contains details in regards to our cancellation policy: over 120 days prior to the event - 75% refund; 119 to 60 days - 50% refund; 59 to 0 days - 0% refund.
Please read our
terms and conditions
for further details in this regard.