For all inquires please contact
P: 780-453-6182
E: iccgm@iccedmonton.ca
Conferences, Meetings and Special Events
We cater all types of conferences, meetings and special events. We want your event to be as successful as you do and we'll do everything we can to ensure a positive experience that will please you and your guests.

Conferences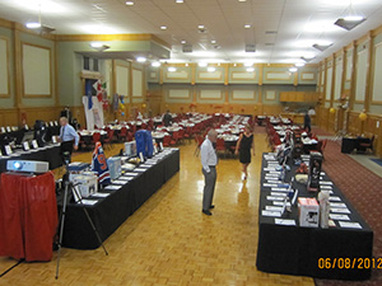 Whether you have a school board meeting, a teacher's or firefighters' conference or an auction coming up, the Italian Cultural Center (ICC) is well equipped and experienced in hosting and catering such events. Our
facilities
can easily accommodate a large group of people including seating and dining areas with room to spare.
Our prices are very affordable and reasonable; we can stay on target and on budget. With full time employees on staff, ICC is ready to render the full range of services needed to make your meeting or conference a success.
When it comes to dining, the Italian Cultural Center prides itself on its fully equipped state of the art kitchen with Chef Don Noble. Our kitchen is one of the best in Alberta and Canada. Its size is immense and can easily permit the rendition of multiple dishes concurrently such that everything is served on time without prolonged break periods.
We serve the traditional Italian cuisine as well as many other common dishes. Please see the menus page for a detailed view of what ICC has to offer aside from custom orders courtesy of our chef.
After a meal, it may be time for a presentation or speech. The center offers our in-house Audio-Visual (AV) and computer systems thus permitting the conveniences of modern technology. Select halls also feature a stage and all have podiums available for your use.
This is just a sample of the amenities we have available, more can be arranged for and we are able to facilitate those arrangements on your behalf.
There are multiple halls available should people need to be split into groups during or after the conference.
Please see the
Facilities
page for more details.
The Italian Cultural Center is easily accessible from all major highways including Yellowhead, Whitemud, and Anthony Henday. We are a short fifteen minute drive from downtown, just off of St. Albert Trail. Parking at and surrounding ICC is abundant. There is easily room for over 100 vehicles to be safely parked.
For out of town guests, we can arrange hotel accommodations and advise of places that render the services they require. We have a well-developed network of companies or people we have worked with in the past who can acclimate to meet your needs and desires.
ICC has the necessary tools to turn a school board meeting, a teacher's conference, an auction or a firefighter's conference into an amiable success.
Please
contact us
to inquire further regarding our facilities and/or to book a viewing. We will be happy to show you around and tell you of the various options available. Please book ahead of time to secure space for the right date as needed.
---
Meetings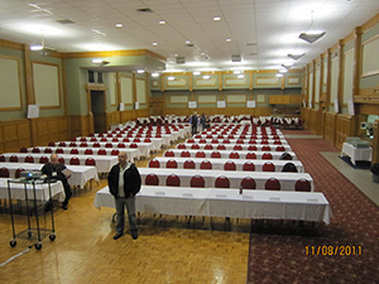 For a large gathering of people as during union meetings, town hall meetings and/or municipal events, the Italian Cultural Center (ICC) has the facilities, capacity and conference experience to accommodate and make them successful.
Our largest hall - the
Losa Hall
- has a carrying capacity of 550 people comfortably seated in addition to other variably sized halls. We can integrate, combine and package great deals on multiple hall options and/or a single large hall with a high amount of dinner guests.
ICC is conveniently located a short fifteen minutes from downtown. The center is easily accessible from St. Alberta Trail and all the major highways. Parking is plentiful and can encompass a large sized gathering.
The Italian Cultural Center retains an in-house Audio-Visual (AV) system and computers ideal for presentations. There are, also, podiums and a stage for speeches or hosting throughout the meeting.
While available usable space and easy access are imperative components of a successful town hall, union or municipal meeting, food could add the finishing touch. ICC has a state of the art kitchen facility that is one of the largest in Alberta and Canada.
Our professional and experienced chef Don Noble can conjure any traditional Italian dish and/or other custom order. Please view our menus page for a more detailed description of the food we serve.
And after lunch or dinner, we have a great outdoor space for a break with tall and beautiful trees out front of the center. Relax, talk, socialize and when it's time to go back in, the next phase of the session will be ready to resume.
The tables will be clear and snacks provided. After all, there are many ways to plan and coordinate an event and the ICC wants to help by facilitating and helping you to make yours a success. We are not simply a rental facility, we are a service provider employing full time employees here to engage you and help in any way possible.
If provisions need to be made for special decorative settings or any other technology or equipment, we are able to facilitate the process. While we have plenty of tables, chairs and flatware, the client is not obligated to utilize it.
Please see our
terms and conditions
regarding the cancellation policy and all other pertinent information.
Please
contact us
to schedule a room and venue viewing, or to get more information. Book in advance.
---
Company Retreats / Corporate Events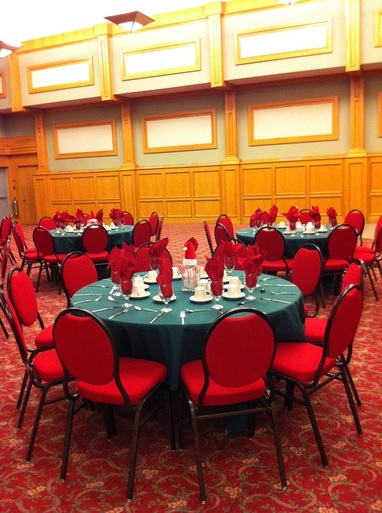 Team building, brainstorming, teaching and learning sessions; these are all things required to sustain a company, increase efficiency and avoid repeat mistakes, but also to excel in the corporate world.
Italian Culture Center (ICC) has the capacity to hold and facilitate any number of corporate gatherings, company retreats and think tank sessions. We have ample room for large, medium and small sized gatherings. We also have multiple spaces available for clients hosting larger group seminars and/or break off into smaller sessions.
If you need several rooms, a bundled price could be established provided availability. A significant discount is available for weekday hall rentals.
In addition to the very reasonable prices, ICC has the accommodations ideal for a corporate gathering. This includes a great outdoor space pragmatic during day breaks and other outdoor activities, plenty of tables and chairs available for layout and arrangement as well as ample menu choices for the major meals of the day as well as snacking, coffee and tea.
Our in-house kitchen and professional chef, Don Noble, will ensure that food is cooked fresh and to your satisfaction. We also employ full time staff available for assistance throughout the event and to serve you better.
The ICC is easily accessible from the major highways and has abundant parking. If you require decorative settings and/or professional planning assistance, we can recommend some planners we have worked with the past based on your needs.
Please
contact us
to book a space or to inquire further.
---
Charity Dinners / Fund Raisers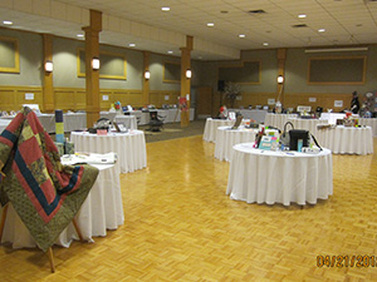 To give is to receive and to receive is to pay forward. We, at the Italian Cultural Center (ICC), want to help you achieve your goals and objectives when it comes to holding charity and/or fundraising events. With the apt ability to facilitate a variety of different functions ranging from small and informal to large and extravagant, ICC can accommodate your needs.
Our prices are very reasonable and we can discuss various hall and accommodation options as needed to ensure that you stay on target and on budget.
If a formal dinner is planned, we have an in-house Italian chef able to cook traditional food, buffet or any custom dishes you may desire. On the other hand, we also have various breakfast, snack, lunch, continental and reception options available.
Please view the full range of
menu
options available.
More information regarding each room and its capacity may be found on the
Facilities
page.
Our facility is easily accessible from the major highways, conveniently located with plenty of parking available. There is a tremendous amount of outdoor space that could be utilized for outdoor activities, contests, displays etc...
ICC is able to facilitate and coordinate at the event including arranging provisions for guests. We have an Audio-Visual (AV) system and computers available for presentations, speeches and/or background music and effects.
There are plenty of tables, chairs, table clothes and flatware available if you so choose to use it during your charity or fundraising event. Lastly, ICC is a service provider and prides itself on the level of excellence we strive towards with our customers.
Please give us a
call
for further information or to book a hall.
---